jDrones
was founded in 2010 with a dream to change the world of unmanned aerial vehicles (UAV), commonly known as drones. The founder & CEO,
Mr. Jani Hirvinen
, who has an extensive background in aviation, electronics, and IT, was one of the founding members of the DIY Drones community. When his team released the
ArduCopter platorm
in August 2010, it kicked the ball rolling and started the hype around UAVs. It was the first multicopter that was truly created for the private sector. Some of the first ArduCopters were ordered by NASA, and ArduCopter was soon made world famous by companies such as 3D Robotics. The design revolutionized the world of drones with its
ArduPilot
flight control systems and open source software, and several new UAV companies utilizing the platform were formed. After a couple of years came another great achievement by jDrones:
MinimOSD
. It is an on-screen display (OSD) system which makes it possible to fly a drone with flight data instruments visible on the screen. MinimOSD is now the De facto OSD system for millions of drone operators around the world. Many present day multicopter designs are entirely based on the work started by jDrones in the beginning of this decade. jDrones has several international patents related to aviation, airfoil design, and propulsion systems.
Today jDrones is an internationally recognized leader in the design and production of both fixed wing and multicopter UAVs. Mr. Hirvinen is regarded by the international UAV community as a pioneer in the development and continuous refinement of the various systems which make multi-functional UAVs invaluable tools in a broad range of uses. jDrones is one of the official manufacturers of ArduPilot and still a core developer and supporter of the DIY Drones community, but the company focuses on designing and manufacturing custom made UAVs and training operators for professional users such as private corporations and governmental / military / law enforcement agencies.
Global UAV Award for:
"In recognition of outstanding contribution to Global UAV Industry", Mr. Hirvinen is one of the five people who has received this honorable global award of the contributions done for the UAV industry in Drone World Congress 2017 at Shenzhen/China on 23rd Jun 2017.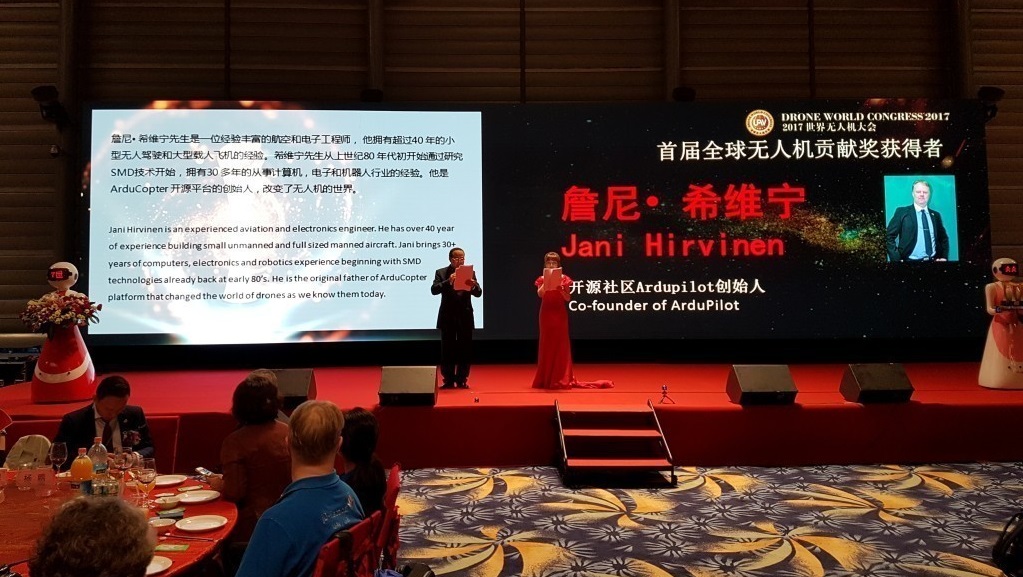 jDrones is a founding member of:
-
DIYDrones community
-
ArduPilot.ORG
-
Ardupilot Initiative
-
DroneCode project